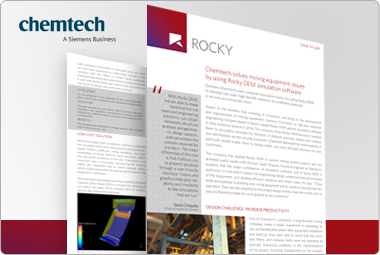 Siemens Chemtech - a high-end industrial engineering company based in Brazil - uses computer simulation tools, including Rocky DEM, to develop low-cost, high-benefit solutions for equipment problems detected in an iron ore extraction mine.
Chemtech uses Rocky DEM to:
- Identify equipment design problems during the expansion of an iron ore beneficiation plant.
- Simulate several solutions for possible equipment fixes.
- Evaluate the efficiency of the chosen solution upon the equipment.
Discover how Rocky DEM helped Chemtech to:
- Discover low-cost solutions that had the least amount of impact to the equipment structure.
- Demonstrate to the customer that Chemtech's solution was effective.
- Reduce up to 80% the arrival speed of the material onto the conveyor belt.
- Limit plant stop time and avoid large losses.
To access the complete Case Study, please fill out the contact form.
© Rocky DEM, Inc. All Rights Reserved.