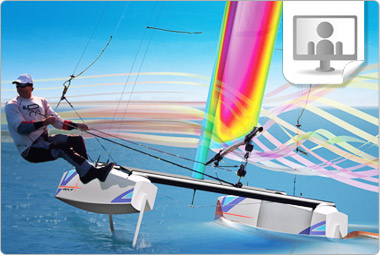 No esporte, tanto os atletas amadores quanto os profissionais estão sempre buscando formas de melhorar o desempenho e reduzir o risco à lesão. De olho nestas questões, a engenharia tem feito contribuições significativas a área esportiva nos últimos anos principalmente por meio da simulação computacional, a qual permite determinar e entender quais são as variáveis e parâmetros que influenciam a prática esportiva.
Ao variar esses parâmetros, profissionais que utilizam a modelagem computacional podem prever as consequências destas modificações seja em um equipamento ou mesmo sobre o atleta. Desta forma, podem selecionar o melhor conjunto de condições para otimizar o desempenho e reduzir o risco à lesão, bem como desenvolver equipamentos esportivos mais eficientes e a um custo menor.
Conheça todas as contribuições que a simulação tem feito pelo esporte no paper "Dramatic Changes in Sports: The Contribution of Engineering Simulation". Para ter acesso ao conteúdo, preencha o formulário ao lado.
© ESSS - Todos os direitos reservados.