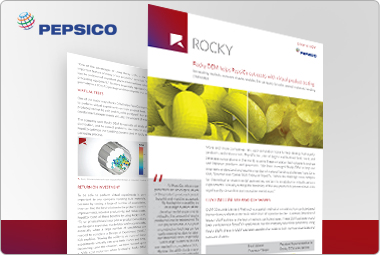 PepsiCo, Inc., one of largest multinational food, snack, and beverage corporations in the world, uses Rocky DEM simulation technology to analyze and improve upon products and processes.
PepsiCo uses Rocky DEM to:
- Test the feasibility of new products and processes.
- Simulate physical interactions between uniquely-shaped materials, such as snack chips, and the processing equipment.
- Evaluate all kinds of equipment issues related to speed, vibration, and material distribution, and to correct problems like material clogging and breakage.
Discover how Rocky DEM helped PepsiCo to:
- Generate unique, complex, and concave particles to customize their simulations.
- Improve the accuracy of their factory equipment set-up for both their new and modified product lines.
- Reduce the number of equipment adjustments.
- Realize a 50% cost reduction with Rocky DEM simulations.
To access the complete Case Study, please fill out the contact form.
© Rocky DEM, Inc. All Rights Reserved.